The prudential regulator has written to registrable superannuation entities (RSEs) explaining how it plans to assess member outcomes.
The letter, written by APRA deputy chair Helen Rowell, notes that the regulator has "identified some RSE licensees that appear not to be consistently delivering quality member outcomes".
APRA proposed stricter rules governing the way super funds operate their businesses on 14 August, and Ms Rowell has previously urged underperforming trustees to "change or exit".
"It is necessary and timely for all RSE licensees to review, and consider whether there is a need to enhance their approach to delivering quality member outcomes and maintaining the future sustainability of their RSEs," Ms Rowell wrote in yesterday's letter.
The letter added that APRA will consider "whether insurance offerings may be inappropriately eroding member retirement benefits" – an issue that was recently flagged as a concern by both sides of federal politics.
Ms Rowell said APRA will assess the following metrics when considering historical member outcomes and future sustainability of super funds:
net returns, on an absolute basis and relative to risk/return targets;
costs per member for MySuper products;
cost of insurance cover;
administration and operating expenses as a percentage of average net assets (operating cost ratio);
net cash flows as a percentage of average net assets (net cash flow ratio);
net member benefit outflow ratio;
net rollovers as a percentage of average net assets (net rollover ratio);
trends in membership base; and
active member ratio.
Ms Rowell also attached a chart (see below) showing that most super funds are in net outflow, adding that APRA will pay particular attention to RSEs where their net cash flow ratio is both "negative and deteriorating".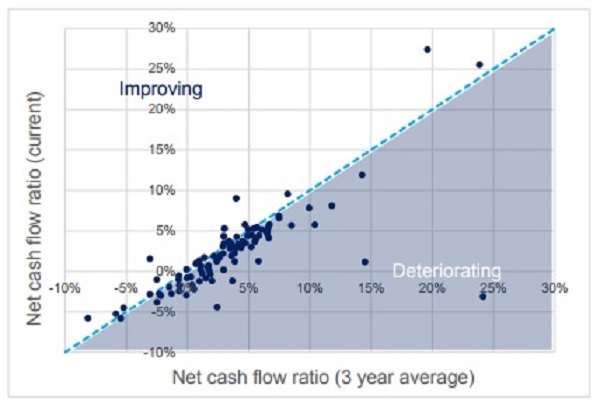 APRA will also focus on MySuper products with net returns below the 25th percentile and costs per member above the 75th percentile; negative net cash flow and high administration and operating expense ratios; and low levels of active membership and a declining membership base, given the potential implications with respect to member retention and ability to maintain scale, said Ms Rowell.