In a note on US equity strategy, Morgan Stanley analysts said the S&P 500 Index is close to the investment bank's 12-month price target of 2,750.
There will be a "moderating" of equity returns as equity markets move away from reflation to inflation, said the note.
"We believe the rapid move higher in rates and inflation expectations over the past few months finally led the market to acknowledge this dynamic leading to the first 10 per cent correction in US equity prices in several years," said Morgan Stanley.
Morgan Stanley also pointed to contracting price/earnings (PE) multiples, with the high reached on 18 December 2017 before the tax bill passed the US Senate.
The fact that bitcoin reached its peak on the same day is probably not a coincidence, said the note (see chart below).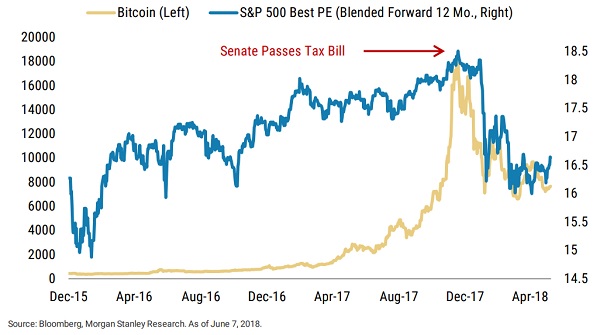 "Instead, we think the passage of tax cuts coincided with peak excitement, at least in terms of price/valuation and 'speculation' as represented by things like Bitcoin," said Morgan Stanley.
"The derating we have seen may indicate that the bear market in valuations and perhaps the next cyclical bear market in US equities may have already begun."
"However, this is being buffered, in our view, by an index price level that has risen by 3.5 per cent since tax reform passed thanks to the adrenaline shot to EPS.
"We believe that this cyclical bear market will ultimately be very "unsatisfying" to the bears because it will lack the big 20-40 per cent drawdowns at the index level that make it easier to capture.
"Instead, we are likely to see a rolling bear market across individual stocks and sectors that results in a choppy, range trading index for years," said Morgan Stanley.