Australian equities have "gone nowhere" in the past six months, according to a new report by Citi – and a "buyers strike" by wholesale investors may be to blame.
Foreign investors and superannuation funds recorded reduced inflows over the first half of 2017, and large inflows into super funds as a result of changes to contribution rules have largely been placed into cash, says Citi.
Stronger global growth has also made other markets outside Australia more attractive for foreign investors, said the bank.
"The stalling of the Australian market over the past six months, despite the continued gains in global equities, even though company earnings haven't been that unexpected, points to a deterioration in sentiment that's persisted," the report said.
This could partly explain the underperformance of Australian equity markets as compared with global equities, as shown in the chart below.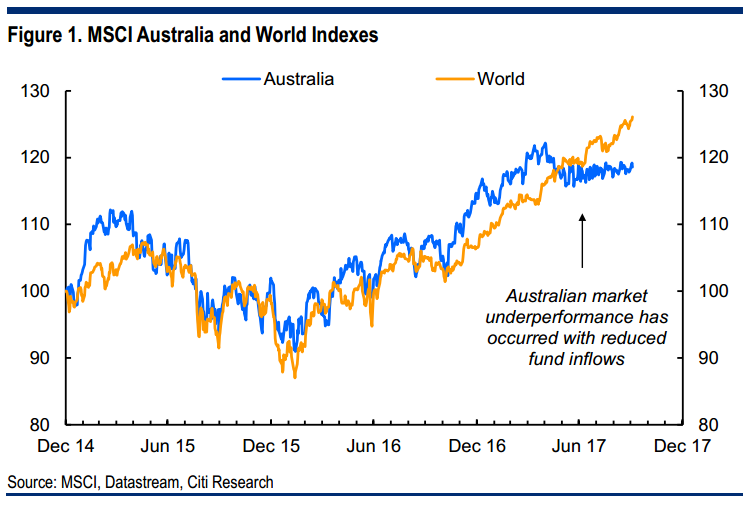 At the same time, data from the Australian Bureau of Statistics has "also confirmed a drop off in interest in local equities from investors since the first few months of the year".
Foreign investors and super funds, which together make up nearly three-quarters of the market, according to Citi, have been shifting away from investing in the domestic market.
"For foreigners, stronger global growth has made other markets attractive, particularly in the region, and data on flows from US investors show a lift in allocations to foreign equities, both developed and emerging," the report said.
"Perceived sovereign risk in Australia after the bank levy and energy market intervention may also have put investors off."
"Diminished sentiment" had resulted in 'a combination of weak performance, slight de-rating, lower inflows and reduced equity raisings" this year.
"Inflows from foreign investors and super funds are volatile but appear to have dropped off," the report said.