In a white paper titled Getting Active: The Next Evolution in Exchange Traded Funds, BetaShares has dubbed active exchange-traded funds as 'ETP 3.0', the latest instalment in the exchange-traded product "revolution".
"Up until recently, all of the ETPs available on the Australian market have been either passively managed ETFs, or rules-based exchange traded managed funds," the paper said.
Passively managed ETFs was referred to as 'ETP 1.0' in the paper, while rules-based investment strategies or smart beta strategies were named 'ETP 2.0'.
"In both cases, the underlying investment strategies used by these funds are very transparent, such that their underlying security holdings are fully disclosed on a daily basis," the report said.
"For active fund managers, however, allowing third party market makers – and the public at large – to be continuously aware of the underlying securities in their funds would compromise their core intellectual property."
But recent regulatory changes had made it possible for active strategies to be implemented without giving away the fund manager's intellectual property, the paper stated.
Magellan was one of the first fund managers to list an 'exchange-quoted' version of its fund on the ASX in 2015, followed by the likes of AMP Capital in partnership with BetaShares in April 2016. Nikko Asset Management also announced plans to list active ETFs on the ASX in February 2017.
Active ETFs, according to BetaShares, act as a market maker – and the requirement for a minimum full portfolio disclosure would be quarterly, allowing for a two-month lag.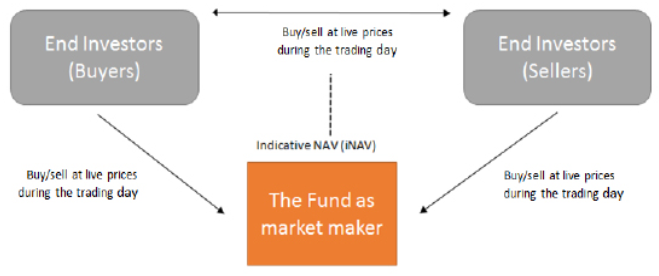 Source: BetaShares
"As a self-market maker, the fund provides bid/offers on the market that reflect its view of 'fair-value', as referenced by an indicative intra-day NAV (iNAV), that is publicly available and updated frequently (e.g. every 15 seconds)," the paper said.
"At the end of each trading day, the fund then issues or cancels units according to its net position in units bought or sold on the ASX that day, and any gains or losses from the market making process will be borne by the fund.
"We might call this the 'ETP 3.0' revolution."
Indeed, active ETFs enjoy a "ready-made customer base", the paper argued, including "SMSF trustees, self-directed retail investors, equities accredited independent financial advisers and full service stockbrokers".