According to a SuperRatings report commissioned by Industry Super Australia (ISA), ASIC Regulatory Guide 97 – which contains new fee disclosure rules for super funds – lacks "simple comparability" for consumers.
"Ultimately, the reality remains that most Australians will be unable to explicitly see either the source of these fees or clearly understand them," according to the ISA report.
Commenting on the research, ISA public affairs director Matthew Linden said, "The new super rules are more likely to mislead consumers than help them".
"This is a litmus test for the government that claims to be on the side of super fund members, or favouring the retail and bank-owned super funds."
"Inconsistent treatment" of investment vehicles was pinpointed in the report as a concern.
"For example, disclosure mechanisms by platforms and superannuation funds are very different, to the point whereby a normal investor may believe that an investment through a platform is considerably cheaper than the same investment through a superannuation fund, despite the possibility of the reverse being true," the report said.
"It is issues such as this lack of simple comparability that are of the most concern.
"Given the wide array of product choice available to investors, it is imperative that consumers can make fair and reasonable comparisons which are not unduly complicated."
The report acknowledged that the purpose of the ASIC regulation was "well-intentioned" and provided "improved comparability of products" to allow more informed decision-making for customers, but also expressed concerns regarding "consistencies that exist within the current framework, specifically in relation to interposed vehicles".
The current regulation afforded a "substantial advantage" to funds that invested in listed securities and did not favour funds with "a very similar security that might be held directly", according to the report.
"The exclusion of entities that invest in real property or infrastructure from the Assets Test means that indirect costs related to the use of a listed vehicle may not be required to be disclosed, resulting in this method appearing to be cheaper relative to direct investment, when it is typically the more expensive option," the report said.
"Consequently, the comparability of the two underlying asset holdings is challenging and has the potential to unfairly discriminate against funds that invest directly."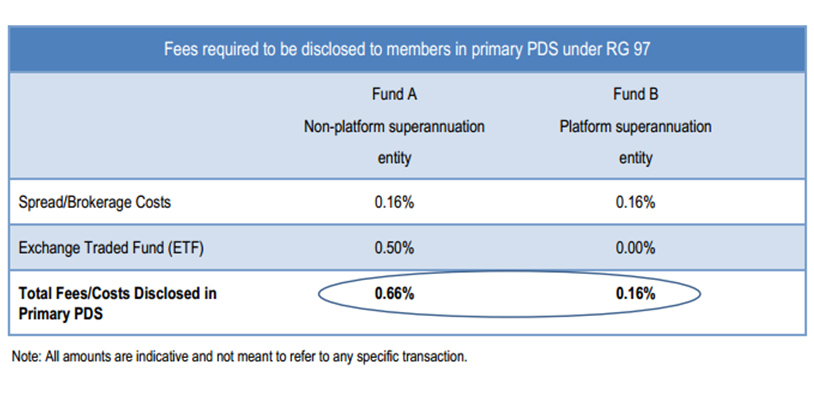 To conclude, the report stated, "We acknowledge that whilst the release of RG 97 … does improve many aspects of transparency, the requirements appear inequitable in some important areas and indeed create risks to investor understanding.
"The requirements should be simplified to ensure that fee and cost disclosures are consistent for comparable investments across all investment products."
Mr Linden said, "It is time for the government to step in, otherwise super fund members across the country could be misled."