Video gaming and e-sports' recent rise to prominence has been augmented by COVID-19 lockdowns. Avid sports fans, self-isolating and craving their usual sports fix, turned to watching and playing video games for entertainment. But the trends for professional sports leagues were not confined to COVID-19; falling viewership and match spectatorship have been underway for some time across many major sports.
VanEck has released a new research paper "Levelling up: An investor's perspective on the disruptive impact and accelerated growth of esports and video gaming" – the paper chronicles the evolution of video games and outlines how e-sports is now disrupting traditional spectator sports right now.
Improving access facilitated by better technology is driving the growth of video gaming and e-sports, allowing for the merging of entertainment experiences across new and evolving platforms. In 2020, the total video game industry is projected to have reached US$175 billion in revenues, which would make it a bigger industry than both cyber security and robotics. There are now over 3 billion people around the world playing video games in some form and revenues are forecast to reach US$218 billion in 2023, representing a 9.4 per cent compound annual growth rate since 2018.
Chart 1: Global video gaming revenue per year
Source: 2020 Global Games Market Report, Newzoo. *Projected past performance is not indicative of future results; current data may differ from data quoted.
Video gaming revenue comes from a variety of sources, the biggest proportion of this is smartphones, followed by console games, as the charts below show.
Chart 2: Revenue from a variety of platforms
Source: 2020 Global Games Market Report, Newzoo. 2020 numbers are estimated.
E-sports, a part of the video gaming industry, is experiencing rapid growth too. Its revenue has tripled over the last three years, coming from growing audiences, sponsorships, advertising and team franchises.
Chart 3: Esports revenue growth per year
Source: Newzoo, Global Esports Market Report 2017, 2018, 2019, 2020. Past performance is not indicative of future results; current data may differ from data quoted. *Projected
Chart 4: 2020 global e-sports market forecast revenues per stream
Source: 2020 Global Esports Market Report, April 2020 update, Newzoo.
Another indicator of the potential growth of e-sports is "total revenue per fan", which shows how well a sport is "monetised". Since 2014, the global average revenue per person of e-sports enthusiasts has increased by 175 per cent. We are witnessing a cultural paradigm shift as e-sports athletes and competitions are considered by many to be on par with traditional sporting events. Even the International Olympics Committee has said that e-sports should be recognised as a sporting activity.
Accessing the opportunity
Despite these compelling trends and fundamentals, most investors are underexposed to this sector; e-sports and video gaming companies make up only around 5 per cent of the tech-heavy NASDAQ 100 and only 3.74 per cent of MSCI World Information Technology Index. The local (Australian) listed sector is small too, with the biggest video gaming companies listed offshore.
Investors can gain exposure to this secular growth theme via Australia's first and only dedicated video gaming and e-sports ETF, the VanEck Vectors Video Gaming and eSports ETF (ASX: ESPO).
VanEck's ESPO is an Australian first. It offers investors the unique opportunity to invest in the largest pure-play video gaming and e-sports companies in the world. ESPO tracks the MVIS Global Video Gaming & eSports Index, which includes companies that generate at least 50 per cent of their revenues from video gaming and/or e-sports.
The investment opportunity also presents diversification away from the FAANG complex, Facebook, Amazon, Apple, Netflix, Google owner, Alphabet and Microsoft. When compared against the NASDAQ 100, ESPO exhibits favourable historical earnings per share (EPS) and sales growth as well as notably cheaper valuations. The fund's price/earnings (P/E) ratio of about 30 is lower than the NASDAQ's 37 times. It also has a lower price-to-book (P/B) ratio.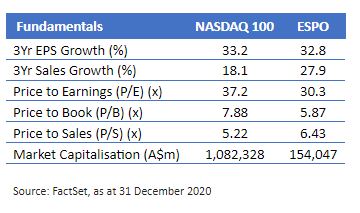 ESPO offers investors one-trade access to a global equity portfolio of companies operating in the video gaming and e-sports industry, with exposure to leading video gaming and e-sports companies including publishers Tencent, Nintendo, Electronic Arts and Activision.
Arian Neiron, managing director – head of Asia Pacific, VanEck
Issued by VanEck Investments Limited ACN 146 596 116 AFSL 416755 ("VanEck"). This is general advice only, not personal financial advice. It does not take into account any person's individual objectives, financial situation or needs. Read the PDS and speak with a financial adviser to determine if the fund is appropriate for your circumstances. The PDS is available here. An investment in ESPO carries risks associated with: financial markets generally, individual company management, industry sectors, ASX trading time differences, foreign currency, country or sector concentration, political, regulatory and tax risks, fund operations and tracking an index. See the PDS for details. No member of the VanEck group of companies guarantees the repayment of capital, the payment of income, performance, or any particular rate of return from any fund.
MVIS Global Video Gaming and eSports Index (AUD) ("MVIS Index") is the exclusive property of MV Index Solutions GmbH based in Frankfurt, Germany ("MVIS"). MVIS is a related entity of VanEck. MVIS makes no representation regarding the advisability of investing in the fund. MVIS has contracted with Solactive AG to maintain and calculate the MVIS Index. Solactive uses its best efforts to ensure that the MVIS Index is calculated correctly. Irrespective of its obligations towards MVIS, Solactive has no obligation to point out errors in the MVIS Index to third parties.