Rethinking investment recruitment
Asset owners and managers need to reverse their recruiting processes to ensure they are just as rigorous as their investment processes, writes Super Recruiters' Guy McKanna.
---
The recruitment processes that have become standard in our industry in recent years are backwards and need be disrupted and transformed.
Several leaders are recognising that by doing this they can reduce risk and improve performance.
The reason why change is needed is that people are one of an organisation's greatest assets – as well as one of their greatest risks!
In fact, finding good people is one of the top three challenges for leaders today and identifying suitable cultural fit of candidates is the major challenge for HR teams (see charts, below).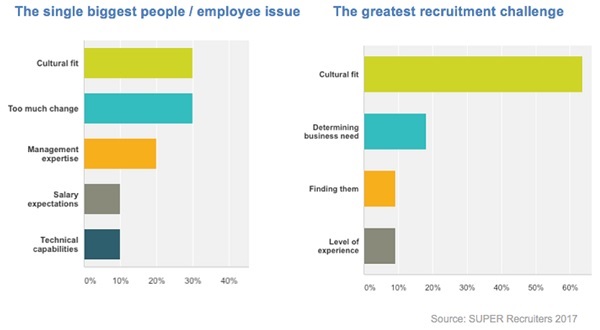 We all know hiring the 'wrong' person is one of the greatest risks asset owners and managers face in terms of cost, time and the unwanted departure of other good people.
Consider how often you've worked with others who were troublesome, who focused on themselves, who didn't contribute and who had little customer focus – and how this affected your own role (let alone the overall business).
Recall the recent headlines on culture at banks, all due to the actions of a few employees. It is little wonder then that 'reputation damage' is considered one of the main risks facing asset owners and managers today.
Reputation damage worried 38 per cent of respondents, as did financial market risk and financial performance, according to recent Super Recruiters research (more than one answer was permitted).
Reputation damage is often typically caused through front line staff not having clear unambiguous instructions, training and understanding of product disclosure requirements and superannuation rules, not to mention ethics.
As management knows, embedding a proactive culture of risk goes a long way to reducing such risk.
But how to create that culture can be challenging, and expensive. Turning around and improving the recruitment process can play a big part in this.
While digital disruption is everywhere, it is not the whole solution here. In contrast, using technology, such as online job boards, does not reduce this risk. Rather, it has increased it!
Technology is only part of the answer. Online job boards use key word matching from candidates' online profiles and resumes.
Matching 10 key words for the role you need to fill with 10 similar words from hundreds of resumes is hardly digital disruption, and I would venture best practice.
These algorithms cannot identify the best-proven performers for a role in your organisation. Nor can they reference check.
I believe we need to turn the process around and identify who has the best track record in the role you are seeking to fill, and talk to them first.
This requires more than technology, more than a database: it requires connections with industry leaders and experts.
You wouldn't invest your organisation's funds in a fund offering based on 10 key words, or on the associated collateral (aka to a resume) or marketing (aka to an interview).
Rather, you would benchmark the performance of various funds and investment offerings as to their track record, check that the offering does what the collateral says it does and assess the professionals behind it via a range of research houses, coverage and the like.
Asset owners and managers need to do the same with their hiring process; rather than the traditional cursory reference check at the end from a friendly former colleague or two.
We suggest you benchmark who is the best at the beginning – identify the proven performers and then approach them – not just those online. After all, you want the best, not just someone who is currently available.
Identifying and enticing proven performers who culturally fit with your organisation is key to developing high-performing teams, culture and organisations.
In fact, our recent industry survey found that greatest recruitment challenge for those in the industry is identifying candidates with the 'right' cultural fit.
This concerned almost two-thirds (63 per cent) of respondents. Cultural fit was also the single biggest employee issue (30 per cent of respondents), along with employees being fatigued by 'too much change'.
Other surveys note that one in five Australians (20 per cent) have suffered mental illness in the past year and almost half (45 per cent) will experience a mental illness in their working life, according to the National Survey of Mental Health and Wellbeing 2007.
It notes: "Major depression accounts for more days lost to illness than almost any other physical or mental disorder."
As such, nothing compares to actually knowing who's who in the industry and who delivers results. And who could be a good cultural as well professional fit for your organisation.
Whether they want to come and work for you is another thing. But you will never know unless you ask.
Unfortunately, many recruitment processes in our industry are backwards and need to learn from their investment departments and transform if they are to reduce their 'people risks' and engage the best possible people for their organisation.
With the increasing pace of change in today's markets, you don't have the time or money to waste on someone who has a good resume and interview technique but who does not deliver tangible results.
Guy McKanna is principal of bespoke industry recruiter Super Recruiters.