Technology stocks starting to pay dividends
Technology may not be a 'traditional' income sector, but a number of technology companies are providing good yields and dividend growth prospects, writes Henderson Global Investors' Ben Lofthouse.
---
As global equity income investors, Henderson aims to identify companies that provide an attractive yield but also, importantly, sustainable dividend growth over the long-term.
To achieve this we employ a dividend-seeking, valuation-driven approach that looks to identify undervalued companies with strong and growing levels of cash.
One area we are currently finding a number of attractive opportunities in is the technology sector.
Technology is not seen as a 'traditional' income sector, but there are a number of stocks that are providing good yields and dividend growth prospects supported by robust free cash flow generation, strong balance sheets and reasonable valuations.
Looking back over the last 20 years, technology was generally considered a high growth but low yielding sector.
At the height of the so-called 'dotcom' bubble in the late 1990s, many tech stocks did not produce any profits, let alone dividends.
In order to maintain high levels of growth, cash-rich technology companies often pursued value-destroying mergers and acquisitions (M&A) with little regard for the return on equity they ultimately achieved.
However, in recent years there has been a shift away from a 'growth at any cost' approach, with management increasingly focused on the returns they generate and on returning cash to shareholders when appropriate.
Activist shareholders have been instrumental in this change, ensuring management focus not just on growth, but on profitability and cash returns/dividends too.
Long-term growth
The sector is now displaying considerably different characteristics to those witnessed in the 1990s.
Despite the view that technology companies face constant competition and disruption, a substantial number of firms that were around 20 years ago still exist today and have emerged as leaders in their field.
From the 159 constituents currently in the MSCI Information Technology sector, more than 55 per cent were operating 20 years ago.
Cash on balance sheets
As these technology businesses have grown and matured they have generated significant levels of cash, often in excess of their investment requirements, and this cash is being returned to shareholders via share buybacks and dividends.
Many companies are generating so much cash that they can invest in growth, pay dividends and still have significant levels of cash on their balance sheet.
Companies such as Cisco, Nintendo, Qualcomm and Apple all have net cash positions equivalent to over 20 per cent of their market capitalisation.
Rising cash levels on technology companies' balance sheets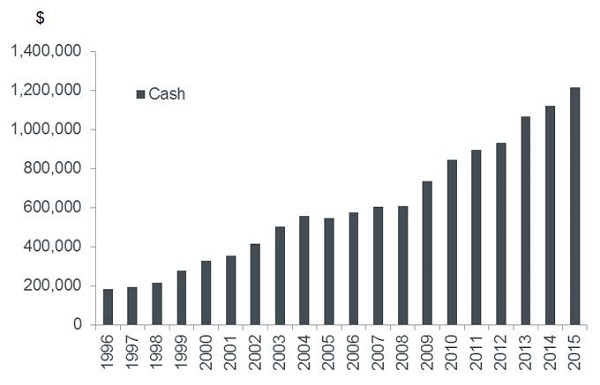 Source: Credit Suisse HOLT, latest available as at 7 March 2017. Information Technology Sector as defined by GICS Classification
Yield dispersion creates opportunities
While the sector's dividend yield has risen significantly over the last 20 years, as shown in the chart below, it currently only yields 1.5 per cent in aggregate. There is, however, a wide dispersion in yields at an individual stock level.
Technology's dividend yield has risen significantly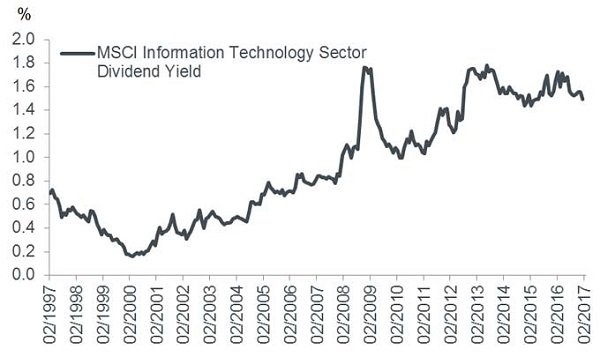 Source: Thomson Reuters Eikon. MSCI Information Technology Sector dividend yield from 28.02.97 to 28.02.17
A number of extremely large companies, such as the FANGs (Facebook, Amazon, Netflix and Google) still do not pay investors a dividend.
Despite this, the sector has seen significant dividend growth, and at the other end of the scale are companies such as Seagate and Canon with current dividend yields in excess of 4 per cent.
Dividend growth
Our latest Henderson Global Dividend Index (HGDI) Report – a long-term study into global dividend trends – highlights that the technology sector has generated significantly greater dividend growth (see chart below) globally than other sectors since the inception of the HGDI report in 2009.
Dividend payouts from the global technology sector totalled $30.5 billion in 2009, growing to $92.9 billion in 2016, with more than two-thirds generated by North American companies.
HGDI dividends by sector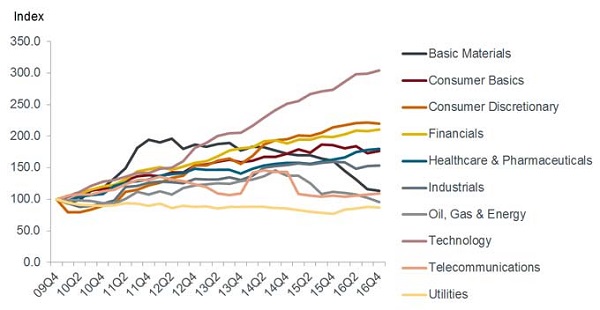 Source: Henderson Global Dividend Index, edition 13, as at 31 December 2016
As the table below shows, some dividend-paying technology companies have exhibited strong dividend growth since 2009, providing attractive opportunities for active investors: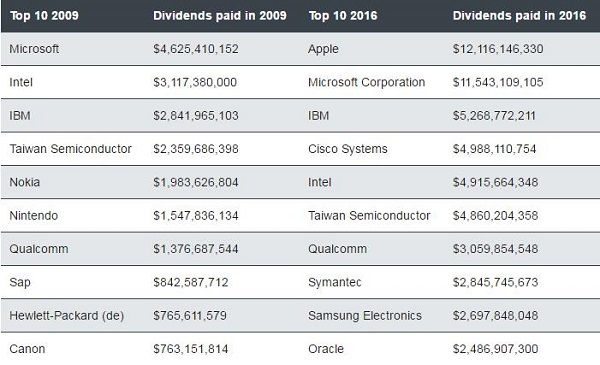 Source: Henderson Global Dividend Index, edition 13, as at 31 December 2016. Note: includes special dividends
Current opportunities in the technology sector
The Henderson Global Equity Income strategy focuses on companies generally yielding between 2 per cent to 6 per cent. Consequently, stocks that do not pay a dividend or yield below 2 per cent (such as Apple), or that are considered to be overvalued, are not currently held by the strategy.
However, stalwarts such as Microsoft, Cisco and Taiwan Semiconductor Manufacturing all feature in our portfolio, with dividend yields in excess of 2 per cent and healthy dividend growth expected to continue.
In addition, these companies have strong balance sheets and attractive cash flow characteristics, with healthy net cash positions on their balance sheets.
In the case of Microsoft and Cisco, some of this cash is held outside of the US and was discounted by investors as 'stranded assets' due to punitive tax charges if the cash was repatriated to the US.
We, however, believed it was wrong for investors to ignore the value of this cash and more recently there has been much discussion about President Trump allowing this cash to be transferred back to the US at more attractive tax levels, which is supportive of valuations.
In summary, strong cash flow generation and robust balance sheets are supporting dividends and dividend growth within the sector, and for an active global equity income fund manager there are a number of interesting opportunities to be found.
Ben Lofthouse is a global equity income portfolio manager at Henderson Global Investors.