Call me ignorant, but when APRA announced the launch of its MySuper heatmap, I didn't envision downloading an Excel spreadsheet and navigating multiple tabs in order to decipher what the hell I was looking at. If this monstrosity is intended to be fit for public consumption then the average Australian better have a financial adviser by their side, if for no other reason than to decode the thing. 
Fortunately, the team who put the spreadsheet together included a "user guide" on tab 4 (see below). Crikey!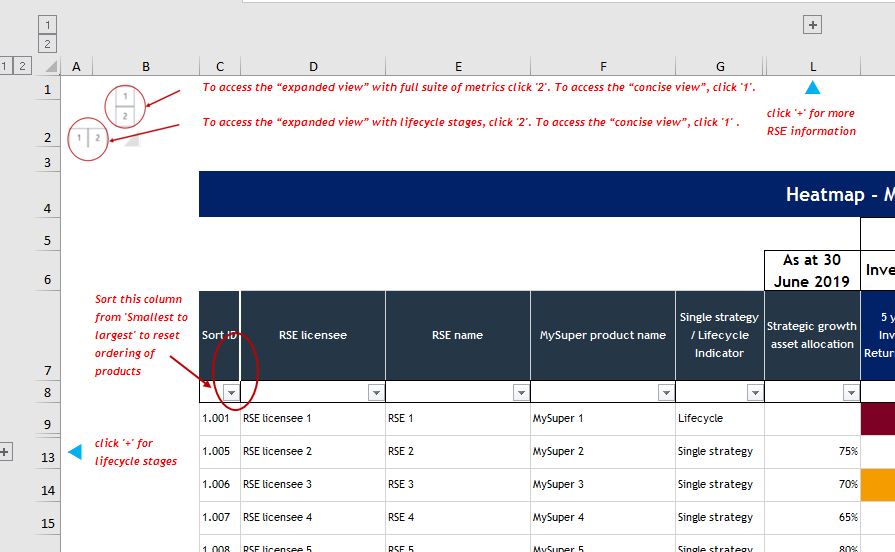 There is also a colour legend and a glossary of definitions for terms such as "strategic asset allocation" and "net investment return". 
My fear is that the average Australian super member looking to compare funds will struggle to comprehend what APRA's heatmap actually means. Particularly when you consider what the financial literacy of an average Australian actually looks like. 
Back in August, Compare the Market and Deloitte Access Economics released the second edition of The Financial Consciousness Index, which measures the extent to which Aussies are conscious or aware of their ability to affect and change their own financial outcomes, encompassing their willingness to act, and the extent to which they are able to participate in financial matters.
Australians scored 48 per cent on average on the index, which means they are just into the "conscious" band and out of the "it's a blur" band.
Meanwhile, ASIC's 2018 Financial Capability initiative noted that two in three Australians don't understand the investment concept of diversification and only 35 per cent know what their super balance is. 
With this in mind, it's difficult to fathom how APRA's overly complex Excel spreadsheet is going to translate, let alone be used as a guide, to everyday Australians. 
FSC CEO Sally Loane warned against the misuse of the thing and said it should not be used to rank superannuation products. 
"It is really important to understand that the heatmaps are a point-in-time analysis, which is a useful tool for APRA in its supervision activities, but it doesn't tell the whole story when it comes to members' retirement outcomes," Ms Loane said. 
"Particularly for life cycle products, which adjust investment strategies over a person's lifetime, the headline numbers in the heatmap don't reflect the actual experience of a member in that fund, and could be misleading if viewed in isolation."
The FSC noted that the heatmap may tell you that other funds have had higher returns over five years, but if you're close to retirement you might be far more concerned with how your fund is managing the risks of a market downturn to safeguard your retirement savings.
Some of the heatmap's other failings are that it doesn't tell you how your super has performed over your lifetime, it can't tell you whether your fund invests in accordance with your ethical and philosophical beliefs, and it doesn't tell you what additional services they offer to help you manage your savings. 
"If you have concerns about whether your super fund is right for you, talk to your fund or speak to a financial adviser," Ms Loane said. 
Ms Loane said that while the FSC hoped APRA would continue to refine its MySuper heatmap methodology, the proposal to extend the exercise to choice products was highly problematic.
"The broad variety of choice products in the market, the complexity and bespoke nature of platforms and wraps where individuals choose their investment strategies, and the lack of direct comparable data, [make] it extremely difficult to translate heatmapping beyond MySuper and we urge APRA to not only be cautious in proceeding with this exercise but to engage deeply with industry," she said.