Thanks to the string of massive mergers and acquisitions that occurred during the latest phase of the pandemic, Australia managed to record a sixfold increase in M&A activity over the first eight months of 2021. 
According to data released by Refinitiv Deals Intelligence, a global total of US$3.6 trillion in merger and acquisition deals has been recorded in the first eight months of 2021.
This figure represents not just double the amount recorded over the same period in 2020, but also a 22 per cent increase on the previous yearly record high of $2.9 trillion in deals seen in 2007. 
Refinitiv noted that each of the last four consecutive quarters has seen the global mergers and acquisitions spending of over US$1 trillion. The most recent quarter of 2021 continued this trend, with US$730 billion in transactions. 
In terms of volume, over 35,000 M&A deals announced during 2021 so far represent a 23 per cent increase on more than 28,000 transactions seen over the same period in 2020.
Technology proved to be the most exciting sector, making up 22 per cent of mergers and acquisitions activity in 2021 so far. The total value of that activity exceeds US$800 billion, which puts it at triple the level seen over the same period in 2020.
Discovery's acquisition of WarnerMedia topped the list here, adding $65.32 billion to the overall bottom line when it came to mergers and acquisitions over the first eight months of 2021. 
Looking beyond tech or any other specific sector, the US proved to be the most active mover in the M&A space. Deals involving a US target accounted for 48 per cent of global M&A activity in the first eight months of 2021, according to Refinitiv. 
There was a notable gulf here between the US and the rest of the world, with China and the UK following with just 9 per cent and 6 per cent of transactions respectively. 
The presence of America within the global mergers and acquisitions ecosystem was certainly felt in Australia, with the US accounting for 81 per cent of inbound M&A activity in 2021 to date. This translates to approximately US$72.6 billion in transactions, which is more than a twentyfold increase over $2.7 billion in transactions seen during the same stretch of 2020.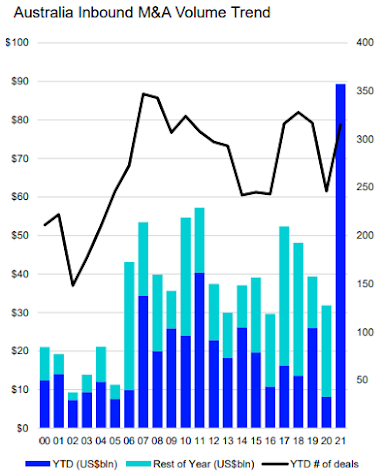 Total Australia inbound M&A activity during 2021 so far totalled US$89.4 billion, marking a new annual record high.  
This injection of dealmaking activity pushed Australia's overall M&A volume to reach a new record high of $173.8 billion – a sixfold increase in value on the same period of 2020.
Refinitiv said that this figure puts Australia on track to deliver its highest annual M&A volumes since 2007.
Previous forecasts by Refinitiv Deals Intelligence anticipated a 6 per cent increase in M&A activity in 2021, after the second half of 2020 saw a "remarkably large, back-to-back trillion-dollar quarters to close the [financial] year."
While high-profile acquisitions like Square's recent US$26.8 billion acquisition of buy now, pay later market leader Afterpay might have gathered the most attention, they were far from the only deal being inked. 
According to Refinitiv, transactions involving the financials sector accounted for just under a quarter of total M&A activity in Australia over the first eight months of 2021. 
At approximately 24 per cent, that put financials ahead of other sectors like industrial and energy – which accounted for 15 per cent apiece. 
Media and entertainment mergers accounted for 11 per cent, while M&A activity in the materials sector made up just 8 per cent. 
Square's acquisition of Afterpay also narrowly beat out the US$22.8 billion bid for ownership of Sydney Airport for the title of Australia's biggest corporate buyout deal on record. 
Taken together, these two deals accounted for just under half of Australia's M&A activity during the period. 
Both deals stole the crown away from Unibail-Rodamco's US$20 billion acquisition of Westfield in 2017, which had previously held the record as the highest value M&A deal in which an Australian company was involved.  
Related article: Deal making involving Australia hits US$174 billion – A YTD record (data as of Aug 2)