According to results of a Roy Morgan Research survey, the superannuation fund balances of younger Australians experienced an increase of 382 per cent, or $226 billion, from September 2007 to September 2017, while super fund balances of older generations decreased.
These results were "well ahead of the overall market growth over this period of 110 per cent", a statement from Roy Morgan Research said.
Additionally, Millennials' market share of superannuation funds more than doubled during this time, growing from 6.4 per cent to 14.6 per cent.
Generation X and Generation Z also experienced increased market share, while Baby Boomers and Pre-Boomers saw their market share decrease over the last 10 years.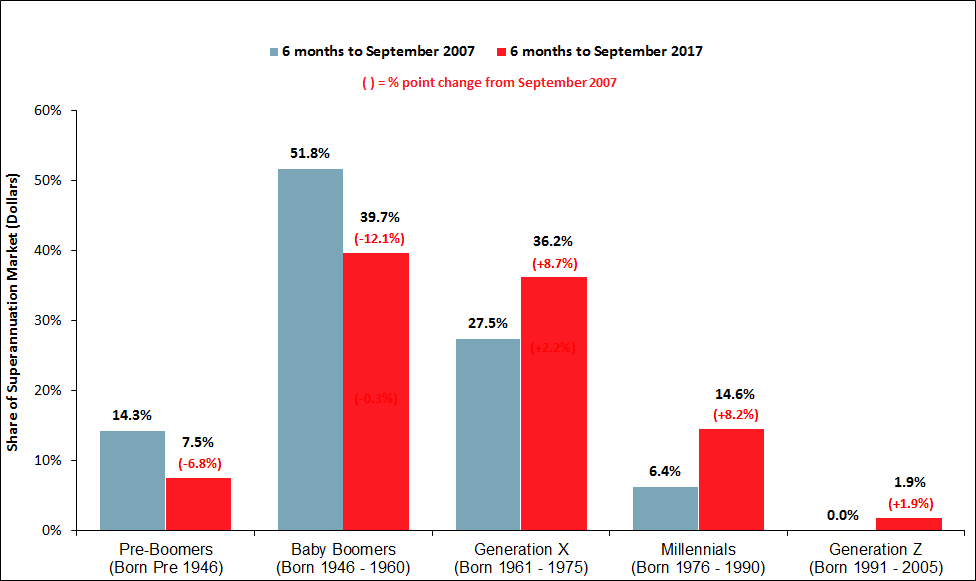 Roy Morgan Research industry communications director Norman Morris said people in the younger age bracket were emerging as the largest drivers of growth.
"This research has shown that due to the compulsory nature of superannuation, Millennials, Generation Z and Generation X are where the greatest growth potential now lies," he said.
"Baby Boomers and Pre-Boomers are becoming less significant for superannuation growth in the long term due to retirement and the associated drawing down of their superannuation balances."
These results are despite the "major challenge" of engaging with Millennials about their super, Mr Morris said.
"[Millennials] are most likely to have shorter term priorities such as housing affordability and lifestyle," he said.
"Concerns relating to rule changes to superannuation ... and difficulties in accessing funds, are also likely to be contributing to a general lack of engagement by the young in superannuation."