In a research report titled In With The New, Mirae Asset Daewoo investment strategist Peter Kim indicated companies with less traditional approaches would be better placed to service the market set to emerge in the next four years.
"Technological advances and business innovation appear to be on the verge of radically changing the composition of China's economy," Mr Kim wrote in his report.
"Conditions are ripe for new business models to take hold."
The report grouped China's population into three classes, or 'kingdoms', categorised by income brackets, with the growth of the middle-class group projected to be the highest, almost doubling (94 per cent) in size.
"We project that China's middle class will grow from 377 million in 2011 to 732 million in 2021, showing an incremental increase easily surpassing the entire population of the US," Mr Kim wrote.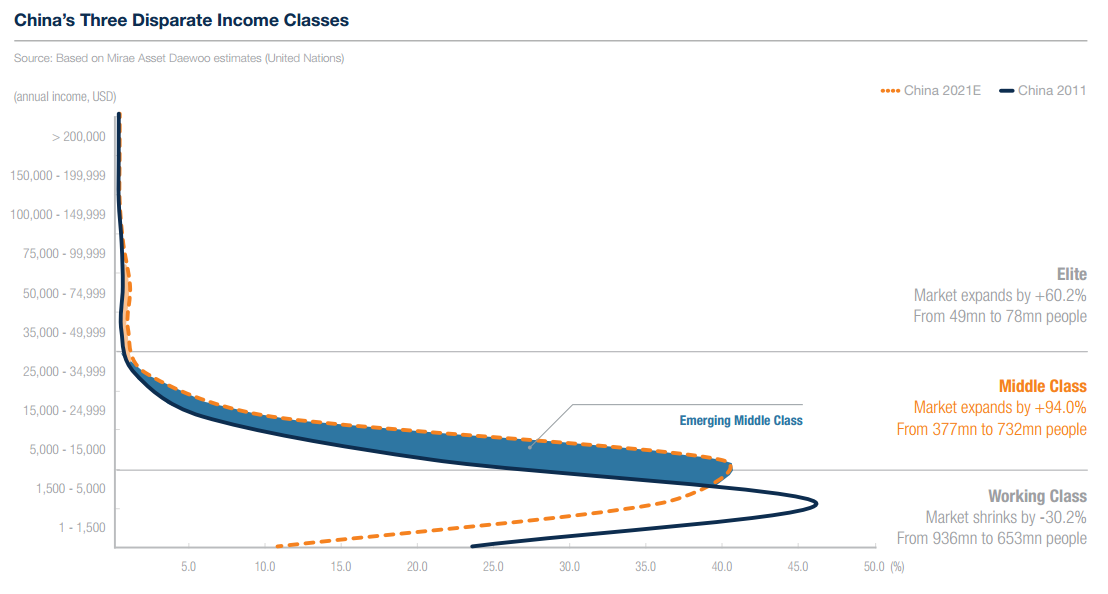 "This represents a historic step-change in the spending power of the Chinese consumer who, in addition to enjoying income growth, is also less indebted than his or her developed market (DM) peers."
Factors involved in the growth of this class include social reform aimed at "reducing inequality and labour discrimination against migrant workers while improving access to education, healthcare and financial services", the report said.
At the same time, the Chinese government was also working to create more affordable housing, raise the minimum wage and continue with the anti-corruption campaign, the report said, culminating in conditions that would "drive upward social mobility for nearly 1 billion people".
According to Mr Kim, the middle class would not present high levels of competition "from a market entry perspective", with market entrants in the upper tier to run into "high-end global brands" and those at the lower tier to run into "mainland players unafraid of engaging in costly price wars".
"In light of these conditions, we believe that the ballooning middle class is the sweet spot for companies developing new business models and pursuing innovation," he said.
"More specifically, we believe the US$5,000-15,000 sub-category holds the key, as its occupants are starting to expand beyond staples to discretionary goods, such as basic cosmetics and portable electronics."
Speaking to InvestorDaily, Mirae Asset Asia Great Consumer Fund senior portfolio manager Joohee An outlined a number of recommended sectors fund managers should increase their exposure to, including "online businesses (e-commerce, mobile games)"; "outbound tourism (airports, online travel agents, gaming/entertainment"; and "financial products (insurance, consumer loans)".
"Socioeconomic changes such as population growth, economic growth, urbanisation, income expansion and positive demographics are driving consumption growth," Mr An told InvestorDaily.
"Investors would be well-advised to position themselves to take advantage of the opportunities that are expected to arise out of the changes ahead," the report said.