Against this backdrop, it's no surprise that market volatility has recently spiked. Equity risk premiums have also increased, which has pressured valuations, especially within the more expensive and speculative areas of the market.
During such periods, our attention remains focused on what we can analyse within the safety net of our tested process. In other words, we continue to be focused on investing in high-quality companies where we have conviction that they can deliver stronger than expected earnings despite these macro-headwinds. 
Below, we reflect on the overall outlook for earnings growth before looking in more detail at two examples of companies which currently fit our process. Danaher and OnSemi are two high-quality businesses which we expect will be able to protect or even grow their margins during this challenging period and deliver better than expected earnings growth.
Earnings increasingly at risk 
There was a hawk-like focus by investors on company forward guidance during the recent reporting season as investors sought to find companies able to offer more certainty in a very uncertain world. The negative-to-positive guidance ratio for 1Q22 spiked to 3.4x, the highest since 1Q16 when the US was mired in a global manufacturing recession. This has driven net earnings downgrades (-1.3 per cent) for 1Q22, driven mainly by margins, with revenues largely unchanged. This is the first time revisions have turned negative since the post-COVID recovery started.  
Overall earnings revision breadth (see Alphinity Global Earnings Diffusion Ratio below) peaked in August 2020 and is now decelerating fast and approaching negative territory, historically a signal for relatively more defensive market leadership.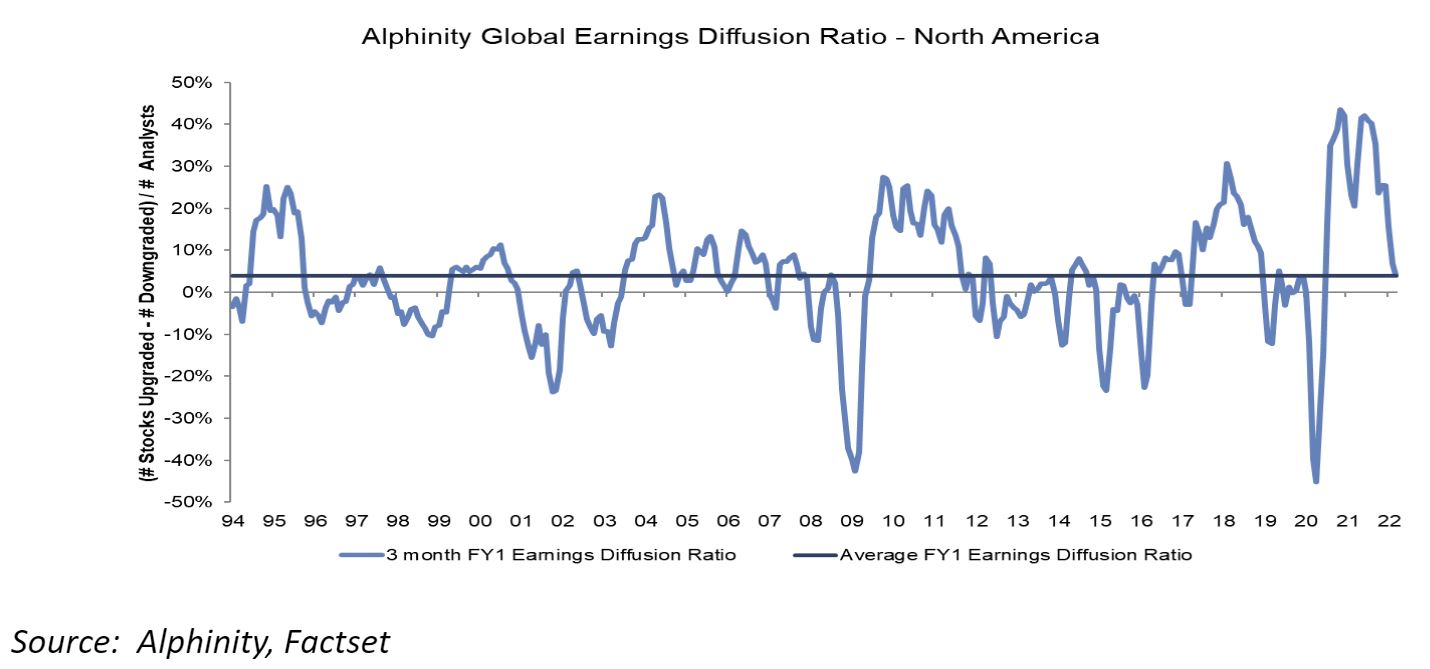 Margins the focus going forward 
Margins were the main question mark in the recent quarterly results season, with US operating margins disappointing by around 200bps (non-financial stocks). Cost inflation and supply chain issues are key challenges across many industries, and there is also a growing number of companies experiencing a 'give-back' of earnings brought forward by COVID lockdowns, such as tech and consumer. The current Russian-Ukraine conflict will likely continue to add more inflationary pressures, which in turn could put greater value on margins and lower volatility of margins.  
Trailing operating margins are also at historical highs (see chart below), increasing potential downside risks from higher inflation and weaker economic growth. Earnings downcycles can often start with analysts underestimating negative operating leverage or extrapolating margin expansion too far. 
Margins are elevated relative to the most recent cycles.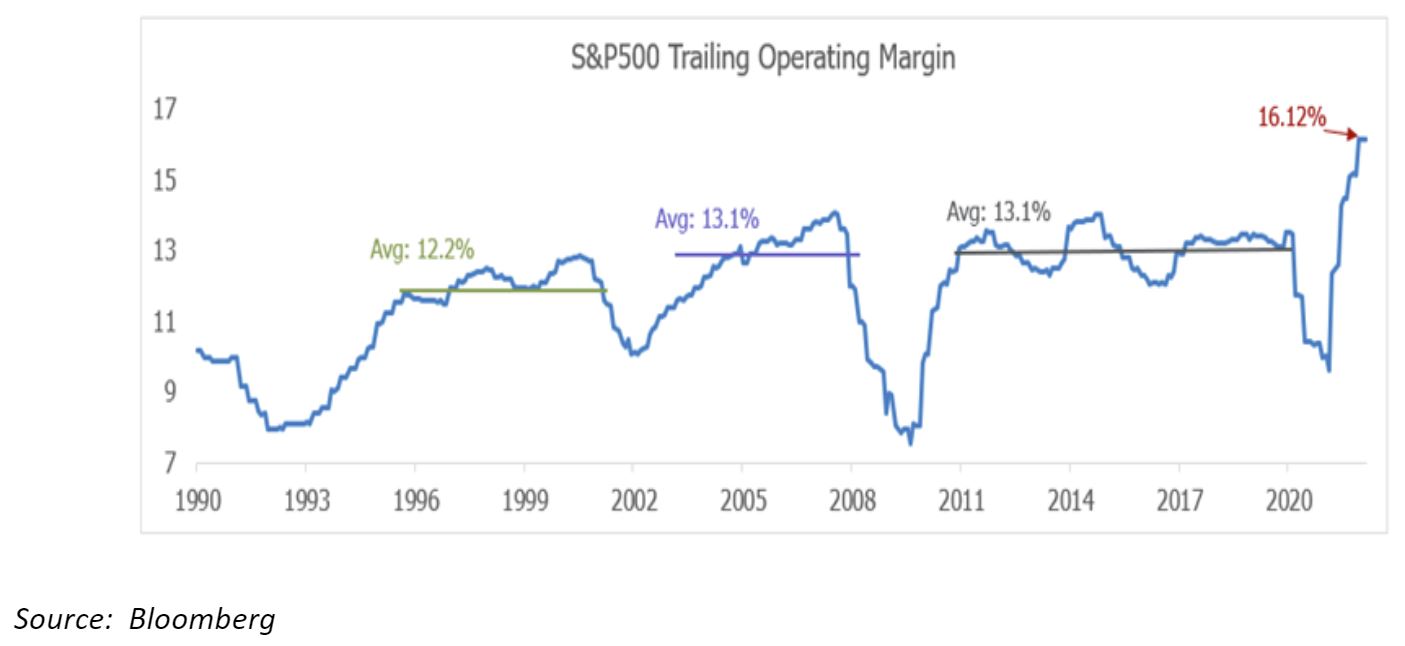 The market has already started to react to the growing risks to margins, with low operating margin companies underperforming year to date (see chart below). Nevertheless, we see further potential downside to earnings expectations over the next few months as analysts update models for recent events.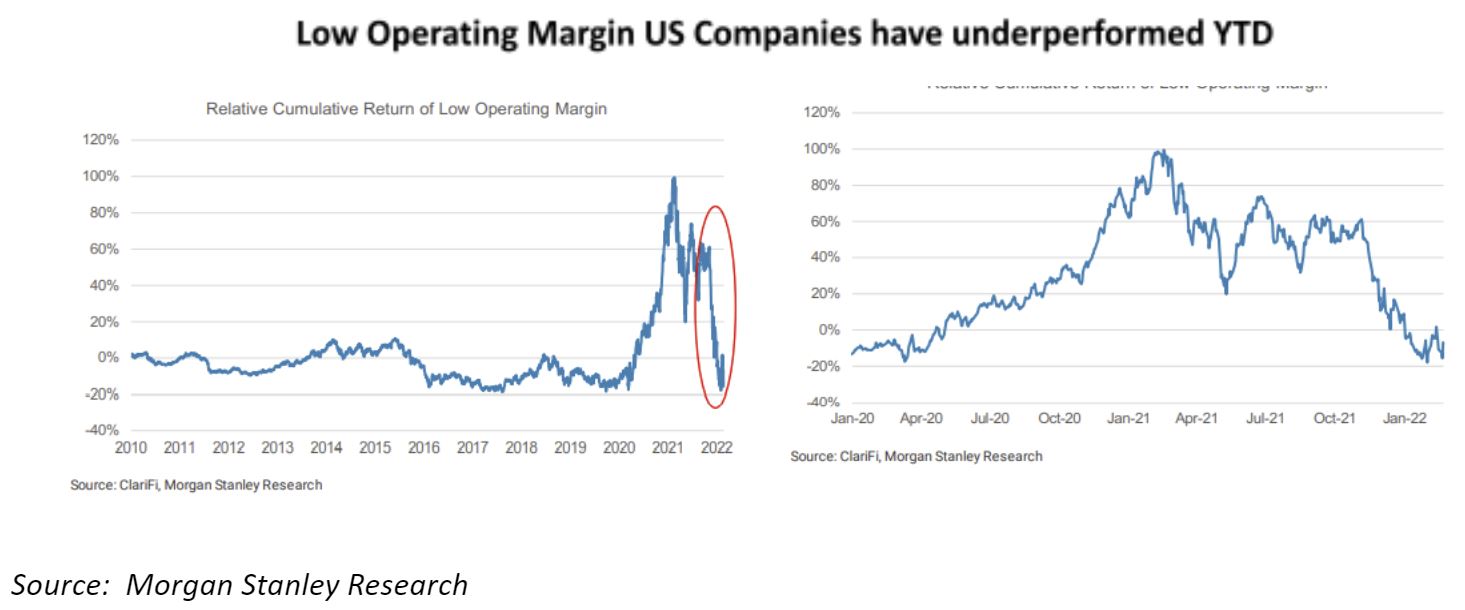 Elfreda Jonker, client portfolio manager, Alphinity Investment Management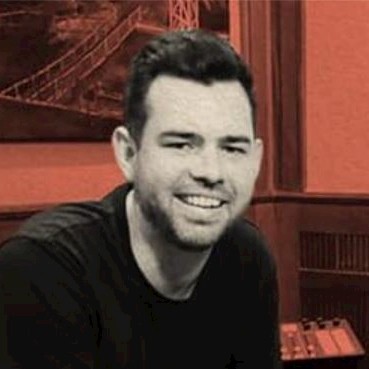 Neil is the Deputy Editor of the wealth titles, including ifa and InvestorDaily. 
Neil is also the host of the ifa show podcast.