The Australian equities market has "bounced [back] in recent weeks", according to a Citi Research report – and there is scope for the rebound to continue.
"After stalling for six months, despite the continuing rally in equities globally, the Australian market has jumped  around 5 per cent," the report said.
"It seems finally responding to the now widely recognised broadening in the global recovery.
"Commodity prices have held up, and company analysts have upgraded resource sector earnings, adding a couple of per cent to market earnings growth in FY18.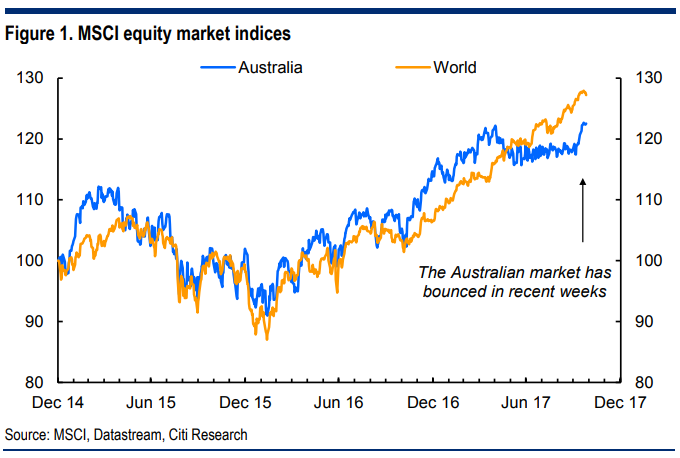 "Confidence about the local economy has likely also benefited, even with indicators still patchy, encouraging investors with limited interest recently back into the market."
The report also indicated there was more room on the horizon for the Australian equities market to play "catch-up".
"In this environment, there would seem scope for the market to continue to move higher in the shorter term, with spot commodity prices suggesting more earnings upside, and possible further support if the USD strengthens relative to the AUD, and US tax cuts occur (though with likely modest impact from tax cuts directly)," the report stated.
"Our forecast remains for the ASX200 to rise above 6,000 and reach 6,250 by mid next year".
However, after that, the Citi Research analysts forecasted "more limited gains, with medium-term earnings growth still looking only moderate and market valuation not low, and even risk of a correction with interest rates likely to be rising".